Browse articles
by Category
Abstracting & indexing: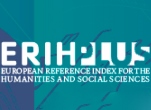 Editorial
Vol. 2 Issue 1 - 6/2010
Editorial
EJIS is published under the research grant no. 91-058/2007 The Development of Interdisciplinary Academic Research Aimed at Enhancing the Romanian Universities International Competitiveness, coordinated by The Bucharest University of Economic Studies and financed by CNMP Romania.